AirPlay Concert Event @Dahlak Paradise September 17th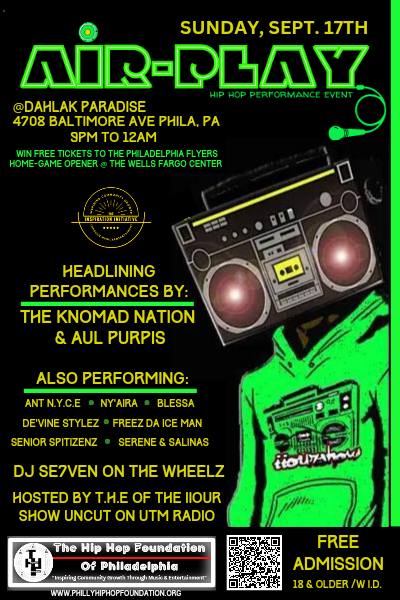 AirPlay Concert Event is Back in West Philadelphia!
September 17th Free Admission
Don't miss the first AirPlay of the year September 17th at Dahlak Paradise! This year's lineup is stacked with talent, featuring headlining performances by:
The Lung, Killa Kelz & Divine Wyze of the power house Indie Hip Hop team, KNomad Nation along with an Indie legend, West Philly's favorite emcee & lyricists, Aul Pupis!
Feature performances by:
Thee Insight Poet Goddess, De'vine Stylez. Along with Serene & Salinas, Ant N.Y.C.E, Freez Da Iceman, Blessa, Ny' Aira, with Vern Volumes & and the Senior Spitizenz just added to the line up
Hosted by T.H.E. of the IIour Show on U.T.M. Radio, with DJ Se7ven on the wheelz providing that, "get right" music for all the heads in the place.
This event is free to attend, and there will be a chance to win tickets to the season opener of the Philadelphia Flyers home game on October 17th! The Flyers will be facing off against the Vancouver Canucks at the Wells Fargo Center, and pre-game performances will be given by featured artists Sean Eric and The KNomad Nation as part of the Inspiration Initiative. Information on how to win tickets will be revealed on August 26th. Make sure you are a subscribed member to get the info first!
AirPlay begins at 9pm. Hookah, food, and drinks will be available, provided by Dahlak Paradise 4708 Lancaster Ave. ID is required. Must be 18 to enter and 21+ for alcoholic beverages. This is an event you won't want to miss! So come out to Dahlak Paradise on Sunday September 17th and experience the excitement of AirPlay 2023!