Hip-Hop Word Search Puzzle
The Gza's classic album "Liquid Swords" was Hip-Hop's gift to the world. The single, "Labelz" warned artists about record companies shiestiness. Find the labels for Hip Hop Intelligence Points.   
The 1990's was the golden era of Hip-Hop Movies. This marked the era where Hip-Hop artists started playing roles other than themselves in movies with multiple genres of movies from comedies like, How High, Gangster movies like, Belly documentaries like Rhyme & Reason, The Show & more. Challenge yourself and see if you can find all the Hip Hop Movies. And watch them all! After you finish the puzzle.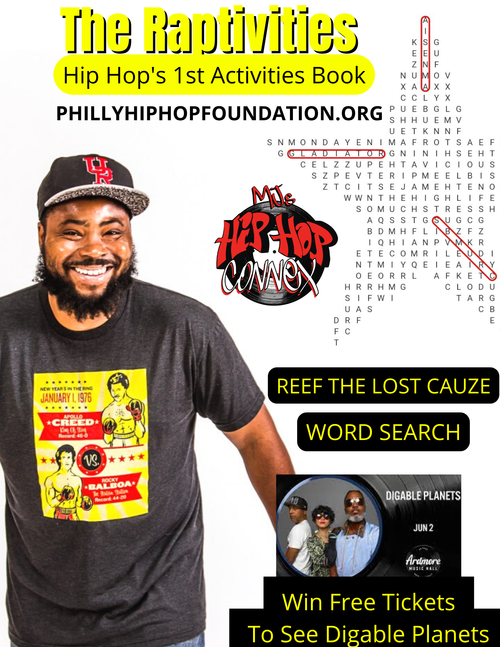 Sharif Talib Lacey, better known by his stage name Reef the Lost Cauze, is an underground hip hop artist based in Philadelphia, Pennsylvania. Cauze became well known on the underground circuit towards the late 1990s and more so in the early 2000s, making his mark by winning many battle competitions within New York and interstate and displaying rare skills of what many called true MCing. 
Releasing The High Life album in 2001, Cauze moved on by teaming up with his past partners and friends and released The Invisible Empire in 2003 to much critical acclaim and thus establishing his name amongst many circles and true hip hop heads, as well as the underground. Feast or Famine was released in 2005 again to positive critical reception, as well as his side project, The Torture Papers, being part of the rap/hip-hop supergroup Army of the Pharaohs in 2006.[1] Reef is also part of hip hop underground groups; JuJu Mob & Army of the Pharaohs.