Putting The Neighbor Back Into The Hood
Giving Skills & Opportunities To The Next Generation Of Hip Hop
This Hip Hop Foundation program is member supported and just getting started due to the Covid Pandemic. So in order to make a difference, we rely on the support of generous individuals & businesses in our community like you. If you would like to DONATE, VOLUNTEER, or SPONSOR an event please go to our PROGRAMS & PROJECTS page. Or simply click the DONATE TO THE HIP HOP FOUNDATION ICON BELOW.
Donate The Hip Hop Foundation Today!
What is "Putting The Neighbor Back Into The Hood"?

"Putting The Neighbor Back Into The Hood", is a docuseries awareness segment that focuses on shining a spotlight on music, and educational based programs in the Philadelphia community. Using radio, TV, documentaries and films as creative outlets, our initiative is set to help organizations that need a constant media tools to help promote their great works in our neighborhoods. Our program will offer cutting edge ideas, & promotional strategies to our community donors.
What We Will Do For Businesses & Non- Profits?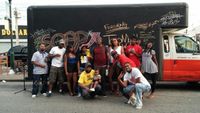 We will help generate foot traffic for our sponsoring businesses & non-profits with live radio broadcast events on-site, popular local performers, raffles, games, event M.C's & host, comedians and more. We offer radio advertising & Roku TV promotions through our parent media sponsor, U.T.M. Media. We customize events to the theme of our sponsors to produce fun and memorable promotions using our 18 years experience in grassroots promotions. Its a win for charity organizations. Why? Cause you guys are some of our favorite people! You serve our communities on a daily basis. So to show our appreciation, we are dedicated to promoting your efforts! The Hip Hop Foundation is adept at crafting music events for the occasion with original music, and inspiring energy. Please consider us for your promotional needs for, event planning & talent buying.
What We Do For Performing Artists
Indie hip hop & other performing artists who are members of our initiative get to hone, cultivate, and perfect their performing craft. We offer a multitude of live performances event with us and our partners. This includes radio tours, concert series, community events and more. We merge forces with classic hip hop artists on a daily basis and connect them with the freshest new artists emerging in our area. Our artists members get guaranteed performance slots on our platforms and much more all year long. These performance platform not only expand the artists repertoire, it also helps generate a sustainable income for our community events, volunteers, and up coming sponsorship programs for other non profits supporting the performing arts. 
Check Out Past Features & Help Us Do More! Help Us Do Better!
West Philly Say Yeah With Y.E.A.H. Philly
YEAH Philly is hands down the freshest community center I have seen in a long time. With progressive ideas and a hands on approach to community, politics, economics, and mentorships, YEAH PHILLY does not just talk the talk, they walk it everyday. T.H.E., of the IIour Show UnCut visited the YEAH PHILLY community center to bring you this coverage for our, Putting The Neighbor Back Into The Hood Program. Please help YEAH PHILLY in their mission and check their website, donate and subscribe. Check out the creators of YEAH PHILLY, Kendra Vandewater & James Aye on the IIour Show UnCut On UTM Radio. Just click the video below. Hosted by T.H.E., Godhead The General & Gunner G on the boards.  
Footage By T.H.E. (True Hip-Hop Entity)
The West Philly Community Poem Ft. Marshall James Kavanaugh
The Barnes Foundation and People's Emergency Center Community Development Corporation (PECCDC), through their collaborative initiative Barnes West, have announced five West Philadelphia-based social-impact artists who have been selected to participate in Everyday Places Artist Partnerships: Keyonna Butler, Marshall James Kavanaugh, Jahwula Seapoe, Karen Smith, and Andrea Walls. 
Barnes West conceived Everyday Places Artist Partnerships to provide West Philadelphia residents with spaces to engage with multidisciplinary artistic projects that offer inspiration and promote ​hope and healing. The selected artists will partner with neighborhood businesses and sites—including grocery stores, restaurants, laundromats, public parks, and community organizations—to build interactive, participatory projects that engage with the site and residents.  
The P.E.C. And Citizen Bank Giving Back