RSVP TO BE IN THE LIVE STUDIO AUDIENCE TODAY! 
The RSVP Networking Party is free under membership sign up and invite. This exclusive Monday night networking event is a direct connect to performing artists, promoters, photographers, publicists, business owners and more! All invited guest are ready to do business and plug in to create something magnificent in the real world, and coming soon, THE METAVERSE!  This is a weekly event every Monday on the IIour Show UnCut. Invited guest will be indie radio host, indie radio station owners, DJ's,  Journalist, Bloggers, Producers, Studio Owners, indie business owners, Producers, Journalist, etc. Invited guest are free to enter. Drink specials available. RSVP Guest are limited to 50 invites max. 21 & Over to enter. Be sure to come through but you have to be a member of, The Hip Hop Foundation Subscribe today. Its Free!
In order to be in the IIour Show UnCut live studio audience, you MUST be subscribed to, The Hip Hop Foundation. Once you have subscribed, go to the RSVP Guest sign up below and sign up. Your confirmation will be sent to your email. 
OCTOBER 3RD LIVE STUDIO AUDIENCE RSVP TODAY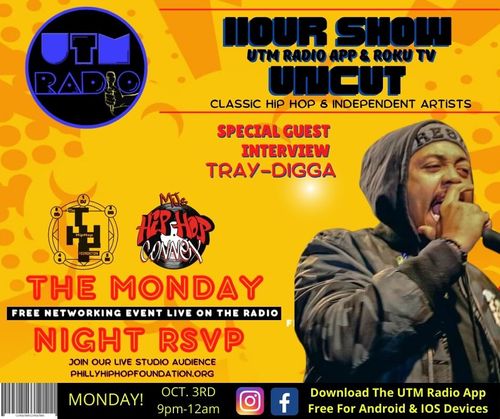 Interview Sponsored By The Hip Hop Foundation
Tray-Digga is a Philadelphia based Hip Hop Recording Artist, Event Planner and Host. The legacy of two Philadelphia legends, Dj sonny "the mighty burner" Hopson and party planner Monica "Rappin Cuz" Waldon. He is the host of "the mfn pop up cipher" on under the middle radio (utm). He is a Member of several hip hop organizations such as CORFU, Ghost Ghang and The Gathering. A notable freestyler, he was a finalist in BET's Search for the star contest, DJ Khalid's in the booth contest and the Red Bull Emcee competition. He is the 3 time voltage lounge hip hop night champion, and 3 time supreme bars Philly champion.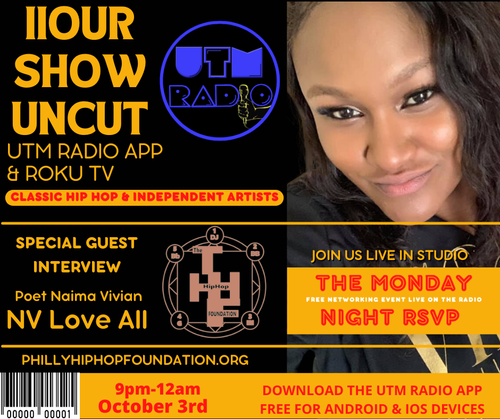 October Line Up For The IIour Show UnCut's Live RSVP Radio Free Radio Networking Events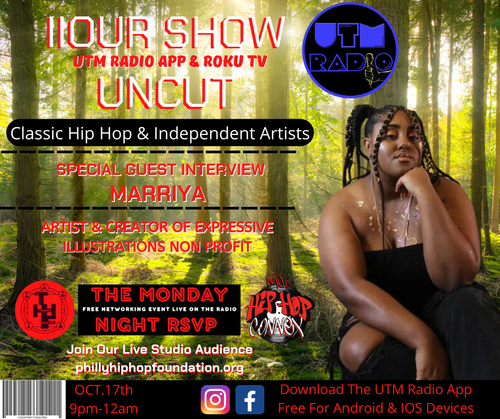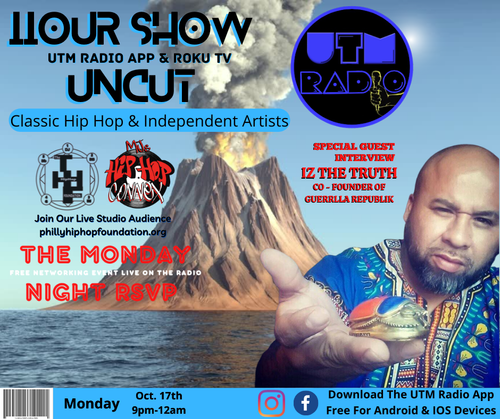 Interview Sponsored By The Hip Hop Foundation
Iz "The Truth" Balleto Peruvian Native Born and New York raised, Now residing in Wilmington Delaware, Hip Hop activist and community organizer, Brother IZ , raises social awareness through Grassroots Cultural events in the tri-state area and around the world. Awarded the 2014 Humanitarian of Year in New York at the Black National Theater for his activism in the inner city, and recipient of the 2022 News Journal most influential of Activism and Social justice he is also the co-founder of Guerrilla Republik an international Hip Hop organization of over 20 chapters worldwide An active member of 302gunsdown and council for the Delaware Art museum and vice president of Roberto Clemente Baseball League and also instrumental in bringing the proclamation and recognition to Indigenous people day to New Castle County and bringing the first Powwow of Arts and Culture among native tribes to the Delaware Art Museum .
Interview Sponsored By The Hip Hop Foundation
 GRAMMY NOMINEE CONSIDERED, WUTANG AFFILIATE, FIRST LADY OF 144000 Chosen Few ,ZuBulliez CEO Mill of Fire Lyrical Feloness. From Massachusetts Known to own the room with her passionate flames and dynamic lyric play. She is the Alpha
INTERVIEW SPONSORED BY MJ'S HIP HOP CONNEX
D.C.-based acclaimed underground Hip Hop artist Japreme Magnetic announces the release of his brand new EP titled 'Science 40' with production by John Banes. Magnetic has been making history for Hip Hop books as the first artist to rhyme strictly over samples of live performances and arguably the first Hip Hop artist who promotes environmental sustainability. His catalog of music continues to turn heads of icons and legends as well as buzz through headlines and his new EP 'Science 40' is no exception. The 5-track EP features Lord Pacis and is accompanied by a video for the lead single "Pressure and Punishment." For those not familiar with Japreme Magnetic, from the age of 25-40, he spent incarcerated. This body of work touches on that. 
The intro provides the perfect calm before the storm with news appearing on the screen about the state of Hip Hop in 2250 while Snooze Dailly and Rhymrcka prepare for a lyrical attack. Menacing bars are delivered aggressively over gritty production and ground-shaking bass, which intensifies each stomp from the beast and wolverine. The wicked games they spew about are the struggle to live, and the hustle to get it right. JalishaSings offers a soothing, melodic hook to ease their destruction.